Overview
Quick and Exact to translate Web contents, letters, chat, emails between 72 different languages.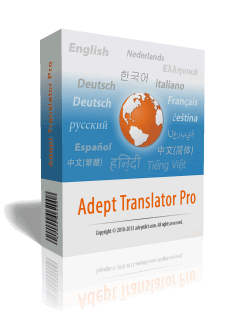 Adept Translator Pro is online translating software that supports 72 different languages and uses internet resources to translate any text you want.
Currently, the program is capable of translating to/from the following languages: English, Afrikaans, Albanian, Arabic, Armenian, Azerbaijani, Basque, Belarusian, Bengali, Bosnian, Bulgarian, Catalan, Cebuano, Chinese (Simplified), Chinese (Traditional), Croatian, Czech, Danish, Dutch, Esperanto, Estonian, Filipino, Finnish, French, Galician, Georgian, German, Greek, Gujarati, Haitian Creole, Hebrew, Hindi, Hmong, Hungarian, Icelandic, Indonesian, Irish, Italian, Japanese, Javanese, Kannada, Khmer, Korean, Lao, Latin, Latvian, Lithuanian, Macedonian, Malay, Maltese, Marathi, Norwegian, Persian, Polish, Portuguese, Romanian, Russian, Serbian, Slovak, Slovenian, Spanish, Swahili, Swedish, Tamil, Telugu, Thai, Turkish, Ukrainian, Urdu, Vietnamese, Welsh, and Yiddish.
Latest Version : 5.9.2

Screenshots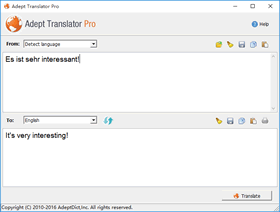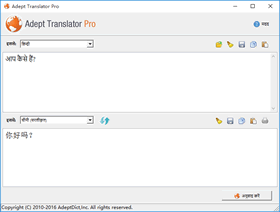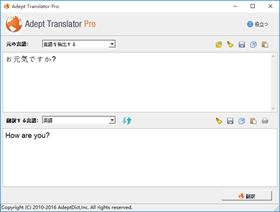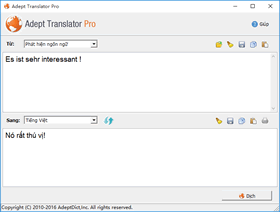 Support Languages
» Adept Translator Pro supports translations between the following 72 languages:
English
Latin
French Français
German Deutsch
Italian italiano
Dutch Nederlands
Portuguese português
Spanish Español
Catalan català
Greek Ελληνικά
Russian русский
Chinese (Simplified) 中文(简体)
Chinese (Traditional) 中文(繁體)
Japanese 日本語
Korean 한국어
Finnish suomi
Czech čeština
Danish Dansk
Romanian Română
Bulgarian български
Croatian hrvatski
Urdu اردو
Tamil தமிழ்
Hindi हिन्दी
Gujarati ગુજરાતી
Kannada ಕನ್ನಡ
Telugu తెలుగు
Bengali বাংলা
Indonesian Bahasa Indonesia
Filipino
Latvian latviešu
Lithuanian lietuvių
Norwegian norsk
Serbian српски
Ukrainian українська
Slovak slovenčina
Slovenian slovenščina
Swedish svenska
Polish polski
Vietnamese Tiếng Việt
Arabic العربية
Hebrew עברית
Turkish Türkçe
Hungarian magyar
Thai ภาษาไทย
Albanian Shqip
Maltese Malti
Estonian eesti
Belarusian Беларуская
Icelandic íslenska
Malay Malaysia
Irish Gaeilge
Macedonian македонски
Persian فارسی
Galician galego
Welsh Cymraeg
Yiddish אידיש
Afrikaans
Swahili Kiswahili
Haitian Creole Kreyòl Ayisyen
Armenian հայերեն
Azerbaijani Azərbaycanca
Georgian ქართული
Basque euskara
Esperanto
Lao ພາສາລາວ
System Requirements
Microsoft Windows 11/10/8/7/Vista/XP (32-bit & 64-bit)
An active Internet connection